MaxLife Blue Stripe Die Springs | Medium Pressure
MaxLife blue stripe die springs are made by Dayton Lamina and color coded white with a blue stripe to indicate that the springs have a medium pressure rating.
The efficient Operating Range is 25% to 50% of the free length (L). Maximum deflection = 50%. Long life = 40%. Optimum life = 25%. Travel to solid is for reference only and not intended for operation. Deflection beyond the efficient Operating Range could create a safety hazard or and result in premature spring failure.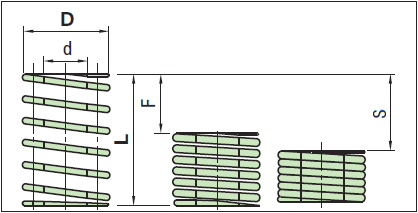 The chart below provides the 50% deflection (F) and spring force in pounds for each medium pressure MaxLife Die Spring. Also shown is the travel to solid deflection (S) and the spring force constant (K) for each spring.
Use the following equation to calculate the spring force in pounds for a given spring and deflection; Force = K x 10 x F, where K is the force constant and F is the deflection in inches.