Gold Lamina Die Springs | Heavy Duty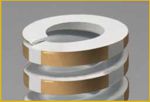 Gold Lamina die springs are made by Dayton Lamina and color coded white with gold (yellow) stripes to indicate that the springs have a heavy pressure rating. The brand name is DieMax.
The efficient Operating Range is 15% to 28% of the free length (L). Maximum deflection = 28%. Average life = 20%. Long life = 15%. Travel to solid is for reference only and not intended for operation. Deflection beyond the efficient Operating Range could create a safety hazard or and result in premature spring failure.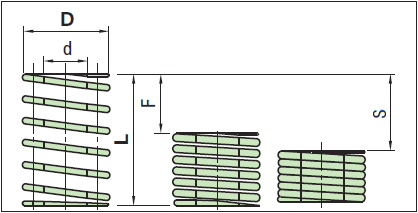 The chart below provides the 28% deflection (F) and spring force in pounds for each heavy duty DieMax gold die spring. Also shown is the travel to solid deflection (S) and the spring force constant (K) for each spring.
Use the following equation to calculate the spring force in pounds for a given spring and deflection; Force = K x 10 x F, where K is the force constant and F is the deflection in inches.
28% Deflection
Travel to Solid
Load @ .1″
Hole
Dia.
(D)
Rod
Dia.
(d)
Free
Length
(L)
Buy
Online
(SKU)
Spring
Force
(lbs)
Deflection
(inches)
(F)
Deflection
(inches)
(S)
Constant
(lbs)
(K)
3/8
3/16
1.00
H100L
32.5
0.28
0.35
11.6
1.25
H100AL
34.3
0.35
0.46
9.8
1.50
H101L
34.9
0.42
0.63
8.3
1.75
H101AL
40.2
0.49
0.76
8.2
2.00
H102L
39.8
0.56
0.86
7.1
2.50
H103L
38.5
0.70
1.09
5.5
3.00
H104L
35.3
0.84
1.28
4.2
12.00
H105L
38.3
3.36
5.26
1.1
1/2
9/32
1.00
H110L
66.1
0.28
0.33
23.6
1.25
H110AL
65.1
0.35
0.55
18.6
1.50
H111L
65.1
0.42
0.69
15.5
1.75
H111AL
67.6
0.49
0.75
13.8
2.00
H112L
61.6
0.56
0.95
11.0
2.50
H113L
58.8
0.70
1.18
8.4
3.00
H114L
62.2
0.84
1.46
7.4
3.50
H115L
58.8
0.98
1.68
6.0
12.00
H117L
53.8
3.36
1.6
6.28
5/8
11/32
1.00
H120L
120.4
0.28
0.38
43.0
1.25
H120AL
112.0
0.35
0.47
32.0
1.50
H121L
116.3
0.42
0.6
27.7
1.75
H121AL
117.6
0.49
0.74
24.0
2.00
H122L
116.5
0.56
0.82
20.8
2.50
H123L
116.2
0.70
1.06
16.6
3.00
H124L
117.6
0.84
1.32
14.0
3.50
H125L
116.6
0.98
1.55
11.9
4.00
H126L
116.5
1.12
1.78
10.4
12.00
H127L
104.2
3.36
5.4
3.1
3/4
3/8
1.00
H1L
304.6
0.28
0.31
108.8
1.25
H1AL
308.0
0.35
0.39
88.0
1.50
H2L
287.3
0.42
0.48
68.4
1.75
H2AL
294.0
0.49
0.56
60.0
2.00
H3L
278.9
0.56
0.65
49.8
2.50
H4L
280.0
0.70
0.79
40.0
3.00
H5L
285.6
0.84
1
34.0
3.50
H6L
274.4
0.98
1.17
28.0
4.00
H7L
280.0
1.12
1.33
25.0
4.50
H8L
277.2
1.26
1.5
22.0
5.00
H9L
273.0
1.40
1.67
19.5
5.50
H10L
261.8
1.54
1.84
17.0
6.00
H11L
268.8
1.68
2.01
16.0
12.00
H11AL
268.8
3.36
4.1
8.0
1
1/2
1.00
H12L
582.4
0.28
0.32
208.0
1.25
H12AL
595.0
0.35
0.39
170.0
1.50
H13L
503.2
0.42
0.47
119.8
1.75
H13AL
509.6
0.49
0.57
104.0
2.00
H14L
504.0
0.56
0.65
90.0
2.50
H15L
476.0
0.70
0.82
68.0
3.00
H16L
457.0
0.84
1
54.4
3.50
H17L
449.8
0.98
1.17
45.9
4.00
H18L
448.0
1.12
1.37
40.0
4.50
H19L
443.5
1.26
1.56
35.2
5.00
H20L
441.0
1.40
1.74
31.5
5.50
H20AL
443.5
1.54
1.95
28.8
6.00
H21L
435.1
1.68
2.13
25.9
7.00
H21AL
439.0
1.96
2.53
22.4
8.00
H22L
430.1
2.24
2.84
19.2
12.00
H22AL
420.0
3.36
4.2
12.5
1-1/4
5/8
1.50
H36L
890.4
0.42
0.49
212.0
1.75
H36AL
886.9
0.49
0.58
181.0
2.00
H37L
837.8
0.56
0.66
149.6
2.50
H38L
820.4
0.70
0.82
117.2
3.00
H39L
798.0
0.84
0.98
95.0
3.50
H40L
754.6
0.98
1.2
77.0
4.00
H41L
743.7
1.12
1.34
66.4
4.50
H42L
735.8
1.26
1.51
58.4
5.00
H43L
742.0
1.40
1.7
53.0
5.50
H44L
726.9
1.54
1.88
47.2
6.00
H45L
720.7
1.68
2.05
42.9
7.00
H46L
721.3
1.96
2.4
36.8
8.00
H47L
734.7
2.24
2.75
32.8
10.00
H48L
716.8
2.80
3.6
25.6
12.00
H48AL
698.9
3.36
4.38
20.8
1-1/2
3/4
2.00
H49L
1094.2
0.56
0.66
195.4
2.50
H50L
1085.0
0.70
0.82
155.0
3.00
H51L
1075.2
0.84
1.01
128.0
3.50
H52L
1042.7
0.98
1.2
106.4
4.00
H53L
1021.4
1.12
1.38
91.2
4.50
H54L
987.8
1.26
1.59
78.4
5.00
H55L
996.8
1.40
1.78
71.2
5.50
H55AL
985.6
1.54
1.96
64.0
6.00
H56L
981.1
1.68
2.18
58.4
7.00
H56AL
972.2
1.96
2.56
49.6
8.00
H57L
967.7
2.24
2.98
43.2
10.00
H58L
963.2
2.80
3.74
34.4
12.00
H58AL
967.7
3.36
4.5
28.8
2
1
2.50
H70L
1771.0
0.70
0.79
253.0
3.00
H71L
1680.0
0.84
0.95
200.0
3.50
H72L
1666.0
0.98
1.13
170.0
4.00
H73L
1635.2
1.12
1.33
146.0
4.50
H74L
1512.0
1.26
1.52
120.0
5.00
H75L
1540.0
1.40
1.68
110.0
5.50
H76L
1540.0
1.54
1.85
100.0
6.00
H77L
1562.4
1.68
2.03
93.0
7.00
H79L
1548.4
1.96
2.39
79.0
8.00
H80L
1545.6
2.24
2.78
69.0
10.00
H82L
1523.2
2.80
3.45
54.4
12.00
H83L
1411.2
3.36
4.25
42.0