MaxLife Die Springs Catalog
Good die springs are important for keeping stamping dies running. Dayton MaxLife die springs, unlike most other die springs, have a true rectangular section with rounded corners to maximize the space available between coils. This design puts more wire into each spring, reducing stress and providing much longer life. (See Figure 1)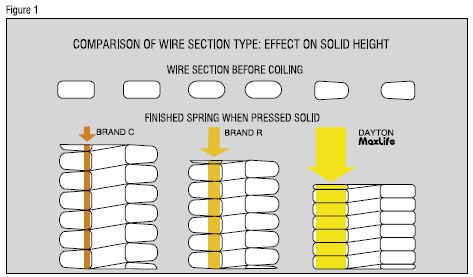 Dayton MaxLife die springs are made of pre-tempered chrome silicon wire from specially prepared valve spring quality rod. Pre-tempered chrome silicon provides improved dimensional accuracy and minimizes stress points.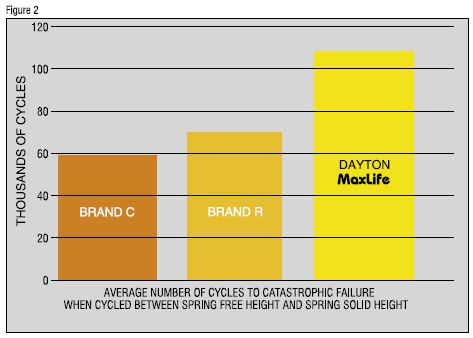 This chart illustrates the difference in predicted fatigue life on a representative sample of Dayton springs compared to similar samples of competitive springs, based on random selection and testing.
The springs are stress relieved after coiling, and compressed to solid which imparts residual stress into the springs, further enhancing fatigue life. They are precision ground at both ends, then shotpeened. (Shot-peening introduces supplemental compressive strength to reduce stress and extend service life.)
Finished springs are electrostatically coated with a durable, anticorrosive white vinyl and striped in colors for easy identification of load ranges.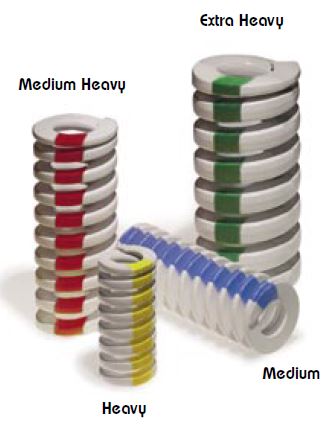 As a result of the care that goes into making Dayton MaxLife die springs, you can count on these proven benefits:
Longer Spring Life
Tests demonstrate that Dayton die springs significantly outperform other major brands, as indicated in Figure 2.
Greater Consistency
Modern high speed coiling machines insure uniformity. Each spring will be the same as the one produced before it.
Higher Quality
Raw materials is tested for tensile strength, dimensional accuracy, chemical analysis and surface quality. Every spring undergoes continuous quality control to assure that springs will perform as expected.
Immediate Availability
Dayton's Firm Delivery Schedule (FDS) means that the springs will be shipped to you within one day after receiving your order.